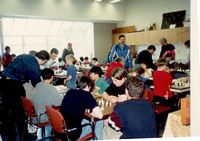 Headquarters phone service line: 604-263-4321
Franchise Director: Frank Ho
Director's text or phone: 604-263-4321
Email: homathchess@homathchess.com
Ho Math Chess at home is headquartered
in Vancouver, British Columbia, Canada.
It is a federally registered incorporation.
Disclaimer
In no event, Ho Math Chess or its employees shall be liable for any loss, expenses, or damage arising out of the use of Ho Math Chess software or programs.
Ho Math Chess at Home = Math + Chess + Puzzles = A fun place to learn math at home.
We abide by the BBB code of conduct.